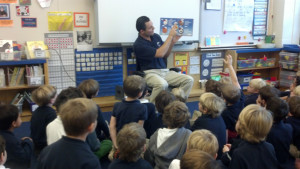 Coach Dan is currently visiting schools in New York City and Northern New Jersey. He will make the book relevant to all classes while discussing the importance of being a good sport on the field and in the classroom.
"We need to define sportsmanship in full detail. Too many of our children have a vague idea of what the concept means. There are so many teaching moments that take place on the athletic field, gymnasium or the playground. Coaches, teacher's and parent's need to take an active role and make sure our children grasp the concept fully. In addition to pointing out what they shouldn't do, we need to show them how to behave and explain why. They are so eager to learn. "Let's create winner's the fair and honest way, the Coach Dan way!"
For more information, send an email to danvenezia@coachdan.com. Fee schedule available on request.
TESTIMONIALS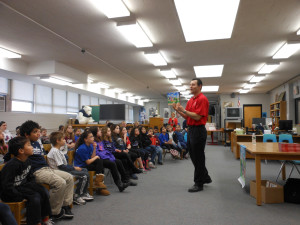 Our school celebrated Read Across America Week by inviting Coach Dan as a guest author. The experience was beyond words. The students thoroughly enjoyed his book and wonderful presentation of the lesson of good character interwoven into sportsmanship. Coach Dan's patience and kindness graced the library where the students had gathered. His natural talent of relating to young people was evident in the way in which every student listened intently to each word that was said. We were very lucky and thankful to have such a wonderful Celebrate Reading experience!
-Rosanne Zagatta
Principal
Jefferson School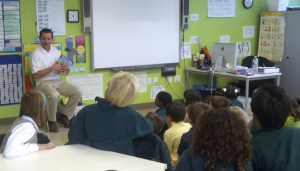 We were very fortunate to have Coach Dan pay a visit to our classroom. It quickly became very clear- to both teachers and students- that Coach Dan is an effective and caring teacher with a strong message about sportsmanship. Hearing Coach Dan read was not only engaging but also motivating! Our students walked away from the read-aloud discussion with smiles on their faces, and continue to reference the lessons of the book whenever the opportunity arises! Thank you, Coach Dan!
Leah Minchello & Amelia Glauber
2nd Grade Teachers at the Mandell School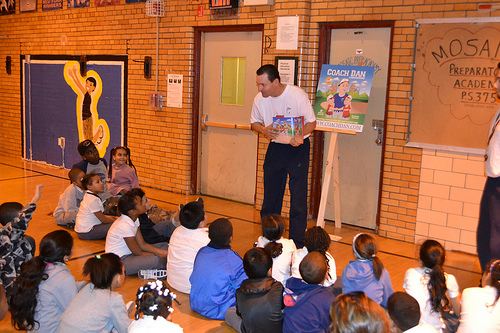 We were so lucky to have Coach Dan visit Harlem RBI's programs. A generous donor even made it possible for our participants to take home their own copy of the Sportsmanship book along with a wristband. Coach Dan was enthusiastic and engaging and made the book relevant to all elementary ages with great explanations and examples. Thanks for the experience you provided hundreds of East Harlem youth!
-Rich Souto
Chief Operating Officer
Harlem RBI