Creating winners the fair and honest way!
| | |
| --- | --- |
| | |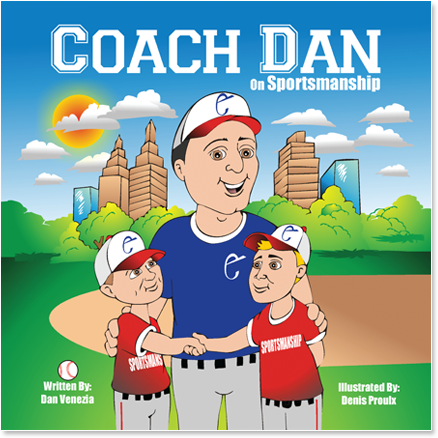 Coach Dan on Sportsmanship is simple in text but enormous in content. This picture book will captivate children with its delightful rhymes and colorful illustrations while appealing to adults with its character-building message.
The life lessons learned in this book are ones our young sluggers will need long after they stop playing sports. This book is sure to be a home run.
Coach Dan on Sportsmanship is a perfect antidote for today's win, win, win mentality. Former ballplayer Dan Venezia returns the game of baseball to its earlier days of fairness and honesty, where the important thing is to play with respect for yourself and the other players. But it's not only about playing baseball and all the other sports. This little picture book is nothing less than a primer for how to live an honorable life. It should be read by every kid who plays the game (and their parents), as well as everyone who does not. Congratulations to Coach Dan for writing this important book.
Gene Brewer
Author of the novel K-PAX