Coach Dan is available to sign books at your book store, fair or venue.
To find out how you can have Coach Dan on Sportsmanship at your book fair, send an email to danvenezia@coachdan.com Fee schedule available on request.
TESTIMONIALS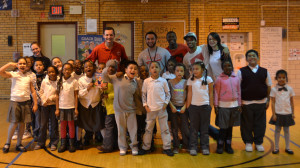 It was such a great opportunity to have Coach Dan visit our program. The kids loved it and even rushed him for autographs after the reading. I'm glad to have a partner like Coach Dan who stresses the values of sportsmanship and teamwork, which are the true reasons we get our youth involved in the sport.
-Dane Martinez
Director- REAL Kids
Harlem RBI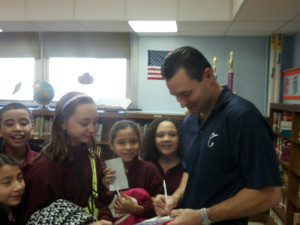 The students and faculty of Wilson Elementary School in Lodi were truly inspired by our visit with Coach Dan. During his time with us, Coach Dan spoke to us about fairness, honesty and respecting others. His newest children's book, "Coach Dan on Sportsmanship" was read to each class and followed by an age appropriate discussion/video on the importance of good sportsmanship. It was truly a pleasure to have him visit our school!
                                                        Mrs. Christie Vanderhook, Principal, Wilson Elementary School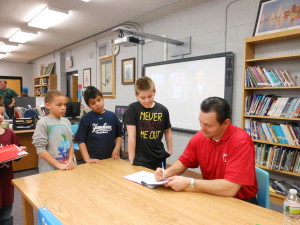 "Hooray" for this refreshing book for young children, which, through its cheerful illustrations and rhyming text, teaches the value of good sportsmanship, namely, that one can play hard to win without sacrificing decent behavior towards others. This book will be enjoyed not only by children but also by parents, grandparents, teachers, coaches, pediatricians and anyone looking for a great gift for their beloved youngsters. Coach Dan is a winner!
~Helen Friedman, 
Former Music Teacher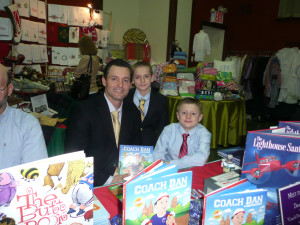 In an era when winning at all costs seems to trump basic civility and kindness, this important book on sportsmanship, written for children age 3-8, goes a long way to explain how being a good sport makes playing the game so much better. Its lively rhyming text and colorful illustrations about a group of young baseball players will appeal to the young, while the messages of teamwork, hustle, respect and so much more will inspire their parents and teachers as well.  A real winner!  
~Karen Brewer 
Librarian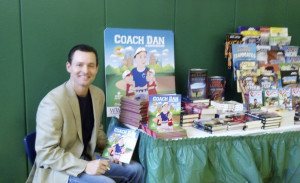 Coach Dan on Sportsmanship is a beautiful, straightforward book that imparts an important message to our kids about the way sports should be played – happily and honorably.
~Tova Yellin, M.D.
Pediatrics
To view more photos, click here.